The airborne contamination is one of unavoidable problems and dangerous to human health that leads to many diseases such as respiratory infections, flu, allergies, etc. As a result, ozone is used for air disinfection system. Ozone has a gas status thus diffusion occurs more widely in any area than spraying liquid. So, spreading of ozone gas throughout any area is quite better than injecting or spraying liquid.
Ozone is an enormously powerful disinfectant and will oxidize in both organic and inorganic compound not only in water but also in air. It is a much stronger oxidizer than any other common disinfectants such as chlorine and hypochlorite. It is 3,125 time stronger and faster than chlorine which can kill or inhibit growth up to 99% of germs including bacteria, fungi and viruses. In addition, ozone also effectively eliminates all kinds of unpleasant odor. Ozone disinfection does not produce any harmful residues, and all the residual ozone will be converted into oxygen within a short time. Ozone is therefore considered as an environmentally friendly disinfectant.
According to the research article on disinfectant in air, the results of ozone-killing test in airborne virus showed that 99% of viruses were killed while using ozone treatment within 15 minutes (Chun-Chieh Tseng& Chih-Shan Li [2006]). Also, the results on the use of ozone to kill the virus in the flat material surface such as plastic glass and stainless showed that the duration of disinfection (contact time) at a concentration of 20 ppm ozone will take 20 minutes to kill the virus (Hudson [2009]).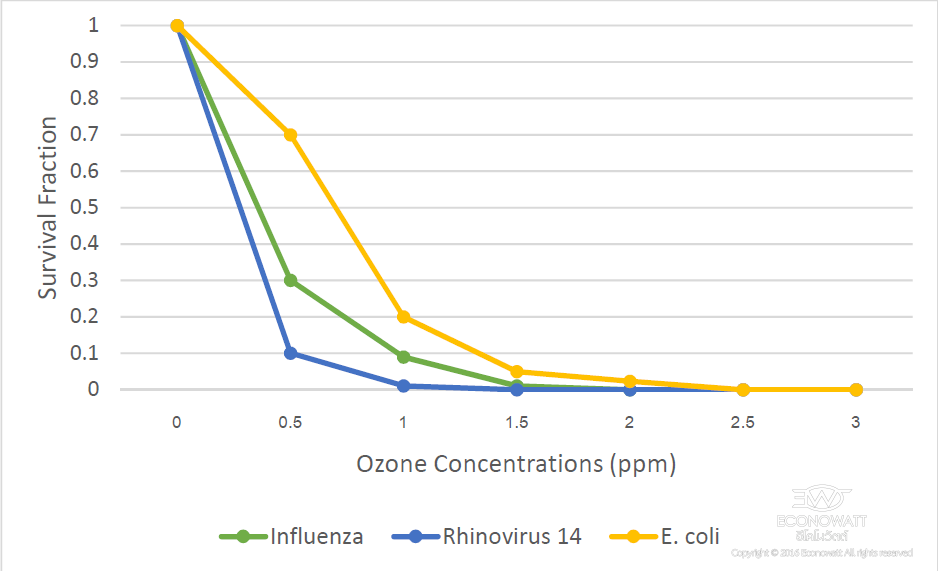 The diagram below shows dosing of ozone treatment for airborne virus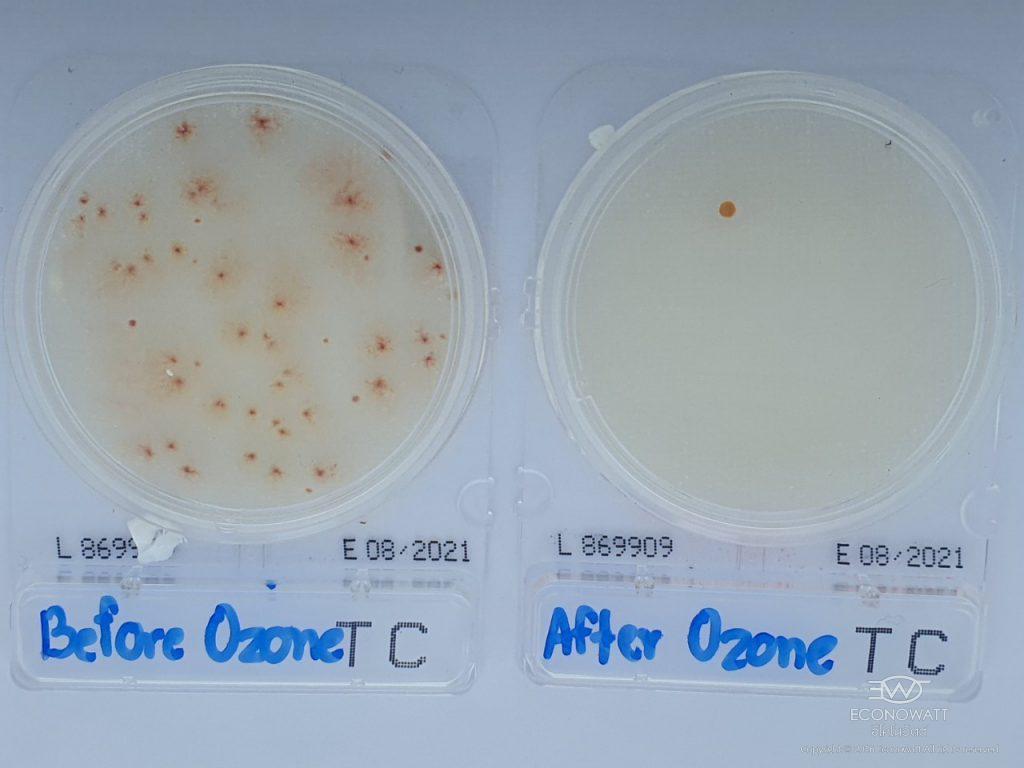 Comparing before and after using ECONOWATT ozone gas generator
ECONOWATT OZONE GAS GENERATOR
ECONOWATT Ozone Gas Generator is effective in controlling the concentration of ozone at 0.5-2.5 ppm throughout the operation of ECONOWATT Ozone Gas Generator which is sufficient for killing pathogens in the air with active alert signals during operation. It not only kills germs but also eliminates unpleasant odors in private areas or musty places and it does not affect human health in the long run.
DOWNLOAD HARD SCIENCE UNIVERSITY WHITEPAPERS, AND SCHOLARLY ARTICLES
Ozone Disinfection of SARs Contaminated Areas
Kenneth K. K. LAM, B.Sc. (Hons), M. Phil.
The outbreak of SARS worldwide in March 2003 has increased people awareness of the transmission of respiratory diseases in indoor environment.
Inactivation of Influenza VIirus by Ozone Gas
Tanaka Hiroshi, Sakurai Miei, Ishii Kousuk, Matsuzawa Yoshiaki.
More than 99.99% of influenza A virus particles attached to a plastic carrier were inactivated by exposure to 10 ppm ( V/V ) – ozone gas for 210 min at 23 to 29℃ and a relative humidity of 64 to 65%.
Deverlopment of a Pratical Method for Using Ozone Gas as a Virus Decontaminating Agent
Hudson, JB. Sharma, M. Vimalanathan, S.
Our objective was to develop a practical method of utilizing the known anti-viral properties of ozone in a mobile apparatus that could be used to decontaminate rooms in health care facilities, hotels and other buildings.
Ozone for Inactivation of Aerosolize Bacteriophages
Chun-Chieh Tseng& Chih-Shan Li
Because of increasing incidence of virus-containing aerosols, ozone was potentially considered to be a promising method to inactivate airborne viruses.
Apparatus and Method for Using Ozone as a Disinfection
Canadian Intellectual Property Office
​A method of sterilizing a closed environment is provided in which an ozone generator is placed into the closed rnvironment; it then generates ozone to a predetermined ozone concentration and increases the humidity of the closed environment.

DOWNLOAD OUR AIR DISINFECTION REPORT
Shopping Mall and Department Store
Terminal 21 (Korat)

Fashion island shopping mall

Siam Square One
Supamitr Hospital

Faculty of Medicine Ramathibodi Hospital
NL Development Public Co.,LTD

Tri Petch Isuzu building
Iron Chef Restaurant Company Limited

Neil's Tavern Steak & Seafood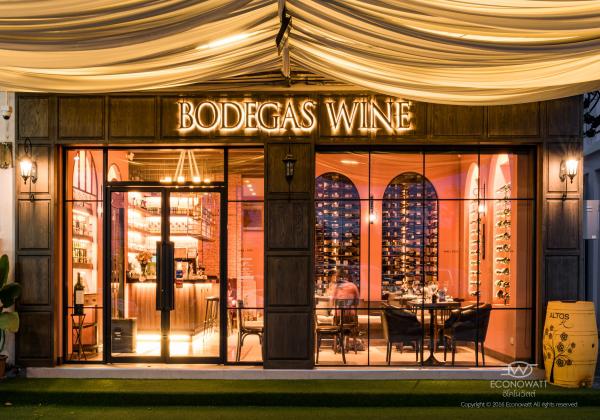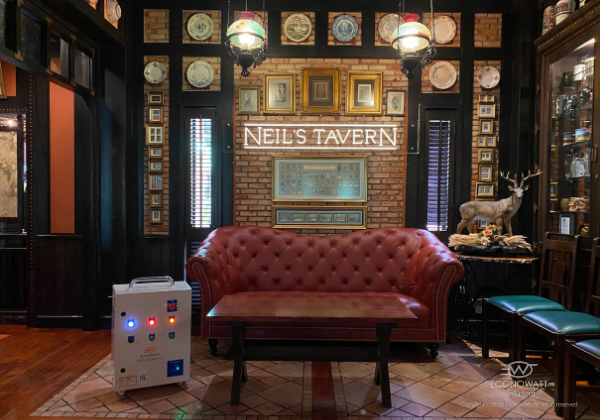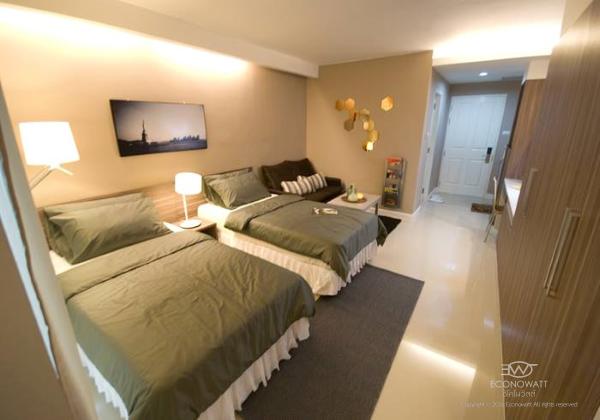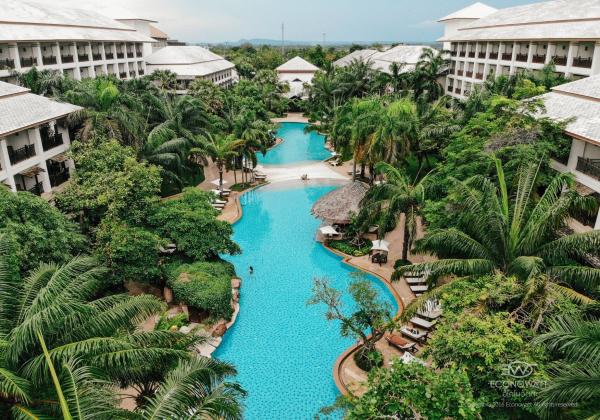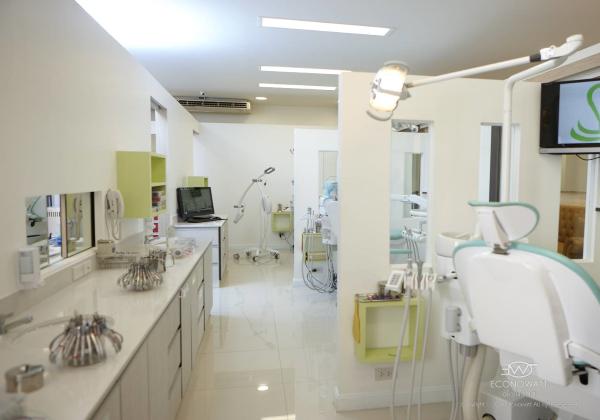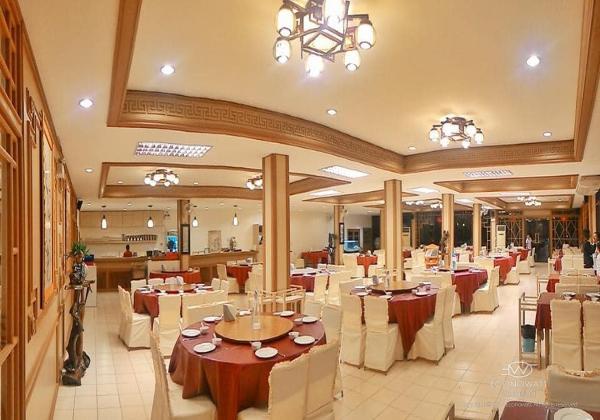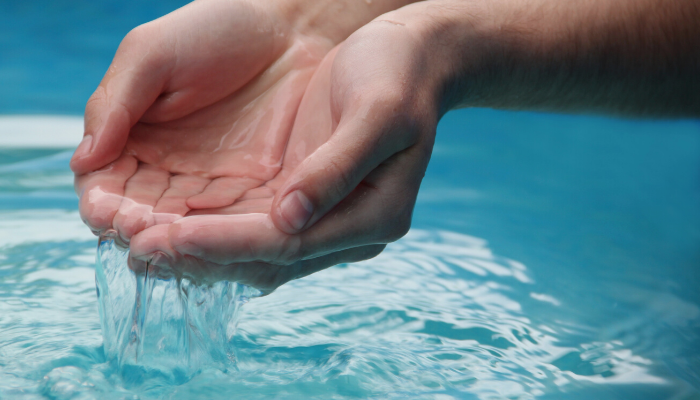 ECONOWATT is expert in enegy conservation, water and air treatment solutions. If you are interested in knowing more about our solutions, we are welcome to serve with your problems.